EUREKA Innovation Week which took place in Stockholm, Sweden in 25-29 April 2016 was about smart cities- sustainable & attractive communities. There were more than 900 participants from 33 countries and TAGES was also there to share and discuss about the new project ideas on smart cities.
EUREKA Innovation Week was a 5 day long conference with the aim to give participants the opportunity to meet, share ideas and discuss smart cities, and to showcase the opportunities that EUREKA offers for international collaboration and innovation. There was a great interest from Turkey to the event. There were almost 100 participants from Turkey.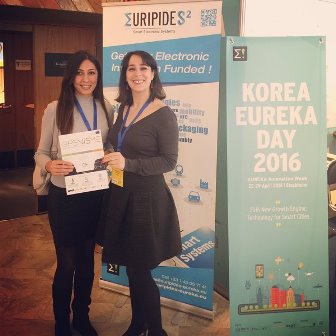 Turkish attendees also gave special importance to this event where Zeynep Sarılar was selected as the Chairwoman of ITEA programme, which is one of EUREKA's sub groups and passed the welcome message on ITEA Session. Other sub groups CELTIC Plus and EURIPIDIES also had different sessions during the event.
Obviously, one of the most attractive events on the conference was B2B match making event. On this event the participants were coupled up to share their project ideas and create collaborations. The call is open all year for the EUREKA Network projects. The deadline for the ITEA 3 projects' submission is Oct 27, 2016 and for the CELTIC + projects' submission is Oct 14, 2016.
From TAGES, Leyla Arsan, CEO and Aslıhan Kağnıcı, Projects Consultant, had many B2B meetings about projects which may suit TAGES and its collaborator firms in Turkey. In addition to this, they represented OPENISME (Open Innovation for Innovative SMEs Project) Platform (www.openisme.eu) to the attendees during the event. The institutions which want to develop EUREKA Projects, praised the platform on its ability to find every scientific research and patent information on a specific topic saying this allows new ideas to be developed easier and also enables finding the experts on this topic for collaboration.
Eureka Projects are On the Way